TL;DR: I made this app so that anyone can distribute a Meetup across multiple locations enabling community while respecting local restrictions on group gatherings during Covid.
Longer explanation and backstory…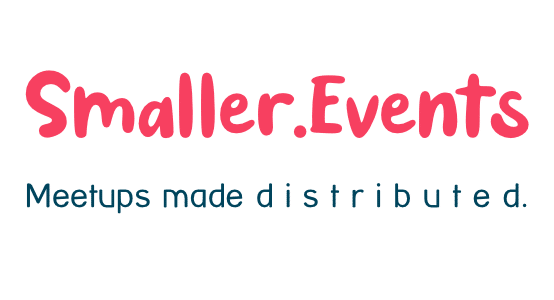 I'm a huge fan of Meetups. I've been both attending and hosting them since 2002 when they started. They've been invaluable in helping me learn various products and disciplines over the years (ActiveCampaign, ColdFusion, Ableton, Lean Startup). But beyond their educational value they've provided a massive social benefit enabling me to meet countless awesome people around the world and form friendships bonding over a common interest.
Unfortunately Covid decimated the Meetup scene and forced the world to suspend in-person group events. As cities start to wake up out of a lock-down hibernation many now have local restrictions to responsibly limit the sizes of group gatherings. At a time after months of isolation when the world is thirsty for community and connection, Meetup has not yet adapted to accommodate the new normal. Rather than waiting for them to bake this capability into their platform I have released an app to address the problem. Here is a concrete example of what it solves:
In Lisbon where I live we are lucky to be home to the world's largest digital nomad Meetup with nearly 9k members. But with Lisbon restricting group gatherings to no more than 10 people it means each event now has 90% of its would-be attendees on the waitlist and precluded from participating. The group organizers to their credit have split the Meetup in two running parallel concurrent gatherings to try and serve more demand but this practice means maintaining two separate rosters, having prospective participants sign up & maintain status in two places and still 80% of the demand remains unserved… we can do better.
To address this issue I knocked out a nocode app during a hackathon last weekend which enables anyone to "shard" a Meetup across multiple locations to make it so waitlisted attendees have the option to meet in small groups at various overflow locations while respecting local restrictions on gatherings. The video below shows a demo of both the backend administrator mobile app as well as the front-end attendee web app:
Highlights of what it currently does:
– Enables anyone to supply the URL of a Meetup event and have the system ingest the details and provide an interface to add overflow locations
– The admin can specify max headcount dictated by local restrictions and assign overflow venues to the event.
– Waitlisted attendees can see the available overflow locations and RSVP to a venue of their choice.
– Admins can easily re-use venues across events and quickly assign more overflow venues to meet demand as it scales.
This is my Trello board of proposed future enhancements including ideas around auto-scaling, having the system "shuffle" attendees' locations to maximize new connections based on past attendance, real-time notifications, maps & chat support, social media integration and more.
Reid Hoffman of LinkedIn said "If you are not embarrassed by the first version of your product, you've launched too late." To that end I've unveiled this app with the bare minimum feature set and deferred all the feature enhancements. Take it for a spin at make.smaller.events and use it to distribute a Meetup in your locale so we can help bring people together while respecting the local restrictions for Covid safety. If you want it to do something it doesn't currently do, check the Trello board and leave me a comment below. cheers